Social Excursion
Social Excursion
1. Full day tour to Nikko
ICPR2012 will support a social excursion bus tour on Nov. 16 [Fri] (the next day after the conference is over).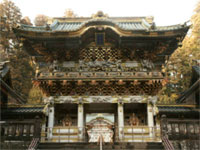 Nikko is famous for beautiful nature (beautiful lake Chuzenji-ko in Nikko mountain range and Kegon-no-taki waterfall) and among them is the Nikko-Toshogu, one of the most beautiful and finest wooden structures (shrine) in Japan founded by the first shogun Ieyasu Tokugawa of Edo era. It is a part of the UNESCO World Heritage Site of "Shrines and Temples of Nikko." It is located about 100km north-west away from Tsukuba. A chartered bus will bring you to Nikko as a round trip. An English spoken guide accompanies participants from Tsukuba to Nikko for all the day.
Advanced reservation is required.
Nikko Tour Information
[Min – Max participants]
min 4, up to 40 people
[Fare]
5,000 JPY (Including bus transportation between Tsukuba and Nikko, lunch at Nikko, Nikko-Toshogu shrine entrance fee, and Kegon-no-taki waterfall entrance fee. ICPR2012 partially supports this tour financially. This fare is estimated to be less expensive than the one you pay when you go there by yourself by public transportation).
[Reservation site]
Registration is mandatory. Please visit the following site and choose the "Tour".



Online registration site is operated by JTB Japan Corp. JTB has been appointed as an official travel agent for the Conference and will handle registration and hotel accommodations.
[Disclaimer]
The participants should be responsible for any accidents that are caused by them. The participants are encouraged to have insurance by themselves.
[Time schedule]
The bus will pick you up in front of your hotel (not conference site) at the time shown below. Please be punctual, or you will miss the excursion. The schedule is subject to change.
7:20-8:00 : Pick-up.
Bestland hotel (7:20)
Shinonome hotel (07:40)
Daiwa hotel (07:50)
Epochal hotel (08:00)
11:00 : Nikko Toshogu shrine
Shrines and temples in the Nikko district have been designated as part of the "World Cultural heritage".
12:00 : Lunch
Soy milk skins are a specialty of Nikko.
13:00 : Lake Chuzenji-ko and Kegon-no-taki Falls
The water from Lake Chuzenji falls 97 meters perpendicularly. Please enjoy the dynamic falls.
18:30 : Back to Tsukuba
arrived at Tsukuba (the bus will drop by at all the hotels above)
Social Excursion
2. Half day tours
During the ICPR2012 main conference, ICPR2012 will hold a short tour every day. ICPR2012 welcomes ICPR2012 participants and their accompanies to the four half day tours below. They might be changed due to the weather condition and/or demands from participants. An experienced English spoken guide accompanies participants. Advanced registration is encouraged (reserved participants will have priority).
Half day Tours Information
[Min participants]
1
[Meeting place]
ICPR2012 Conference site Information Desk

[Budget]
Free, but any expense and lunch should be covered by participants. Estimated expenses are shown below.

[Disclaimer]
The participants should be responsible for any accidents that are caused by them. The participants are encouraged to have insurance by themselves.

[Reservation]
Please send an email to icpr2012-socialevent-ml[at]aist.go.jp with a subject choosing one of
Subject: Nov.12 Short Walk
Subject: Nov.13 Mt.Tsukuba
Subject: Nov.14 Asakusa
Subject: Nov.15 Science City
And have your full name and additional info ("under 20" "child" for example). If you have additional participants, have their names and their attributes too.
--- example ---
Yoshinari Kameda, adult
Kiddy Tsukuba, child (age 8)
-----------------
  We will contact you by the from e-mail address, so please send the e-mail that you can check usually.
Nov.12(Mon): Very short walk-out in Tsukuba
[Time] 10:00 (- 15:00)

The guide will show you how to move around Tsukuba Convention Center and Central Tsukuba. Then we move to a big regional shopping center (IIAS Tsukuba) by local public bus ride. We will visit:

[Time] 10:00 (- 15:00)

Mt. Tsukuba is recognized as one of the best 100 mountains in Japan. It has twin peaks and about 870 meter high. It is located at the north end of Kanto plane (greater Tokyo spreads out on it), so you may see good view down to Tokyo from its top if you are lucky enough. We will go up to the top by a cable car. you won't need to walk hard (approx. 1km or so). We will also stop by at the Tsukuba-san-Jinja Shinto Shrine to pray for our safe trip to the top, which is close to the lower side station of the cable car. It is recommended to have shoes good for walking.
This event might be canceled due to weather condition.
Bus between Tsukuba Sta. and Entrance of Tsukuba-san-Jinja : 1,400JPY (40min, 700 JPY for one way )
Cable car fare 1,020 JPY (8min for one-way, fare is for round-trip)
Lunch at the mountain top coffee shops (approx. 1,000 JPY, or you may bring your lunch box)

Nov.14 (Wed): Tokyo Sky Tree in ASAKUSA area
[Time] 9:30 (-16:00)

Asakusa (including Sensoji temple and Kaminarimon) is one of the most popular sightseeing spot in Tokyo area, and actually it is directly connected from Tsukuba by Tsukuba Express (TX) line. Close to Asakusa is Tokyo's new sightseeing spot of 634-meter-high Tokyo Sky Tree. You may have a walk downtown Akihabara before you go back to Tsukuba.

TX ride
Tsukuba - Asakusa : 1,100 JPY (one-way)
Tsukuba - Akihabara : 1,150 JPY (one-way)
We will take TX for both go and return.
Other ride (around Asakusa): 140 - 300 JPY
Tokyo Sky Tree (350meter-ticket): 2,000 JPY (if available; it is still very popular)


Nov.15 (Thu): Tsukuba Science City
[Time] 10:00 (-16:00)

Another name of Tsukuba is "Tsukuba Science City" as it was artificially designed to pile up advance research institutes thirty years ago. Some of them run exhibitions that are open to public.

JAXA Tsukuba Space Center : free
Operation and test center of Japan Space Activities. Some Japanese rockets and satellites are displayed.
Tsukuba Science Square and Geological Museum of AIST : free (closed on Mondays)
AIST is one of the largest governmental research institute and have two exhibitions, one for science promotion and one for collections of geological stuffs of Japan. (Note that Tsukuba Science Square will be a part of Technical Tour on Nov.16 too.)
Tsukuba Expo Center : 500 JPY (closed on Mondays)
Tsukuba once held the international science and technology expo (Tsukuba Expo '85). The center is a kind of science museum where both adults and kits can enjoy the wonders of science.
Sakura Minka-En : free (closed on Wednesday)
Located closely to the Tsukuba Expo Center, you can see a very old and traditional farmer house at Sakura Minka-En. It was originally build at later Edo era.
- You will use local bus ride from the conference site to JAXA, and AIST to Expo center (you will walk from JAXA to AIST for 1.5km/20 min, and from Expo center/Sakura-Minka-En to the conference center). Each bus ride will need about 250 JPY.
Related Links
Other sightseeing tour of Japan
JAPANiCAN.com

Lodgings at popular sightseeing spots become very crowded during the tourist season, so it is necessary to book well in advance. For details, please visit the following website.



* The link site is operated by JTB Japan Corp. JTB has been appointed as an official travel agent for the Conference.
ICPR2012 location map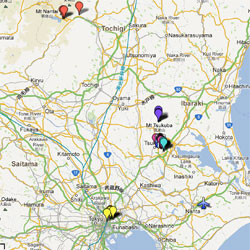 Locations related with ICPR2012 are shown in Google ICPR2012 local map.
http://goo.gl/maps/lhQAH